How I use Notion within my online business
How I use Notion within my Online Business
---
Having a project management tool in place within your business is essential to staying on top of all the tasks you need to get completed. My favorite project management tool for this is Notion. In this post, I'm going to share with you how I use Notion for my business and walk you through all of my folders and how I use them.
In this post, I share with you how I use Notion within my online business. From keeping track of my weekly and monthly tasks to creating an archive of content for my social media and website.
Click To Tweet
Weekly & Monthly Tasks
Within my Notion, I have a page called weekly and another called overview. The weekly page is where I list 2-3 important tasks that I should complete each day. My overview page includes an overview of all the pillars within my business, what they are and what I need to do for each, and how often. I also have a toggle to the top that includes important dates and a calendar view for when I'll be posting blog posts, video content, etc.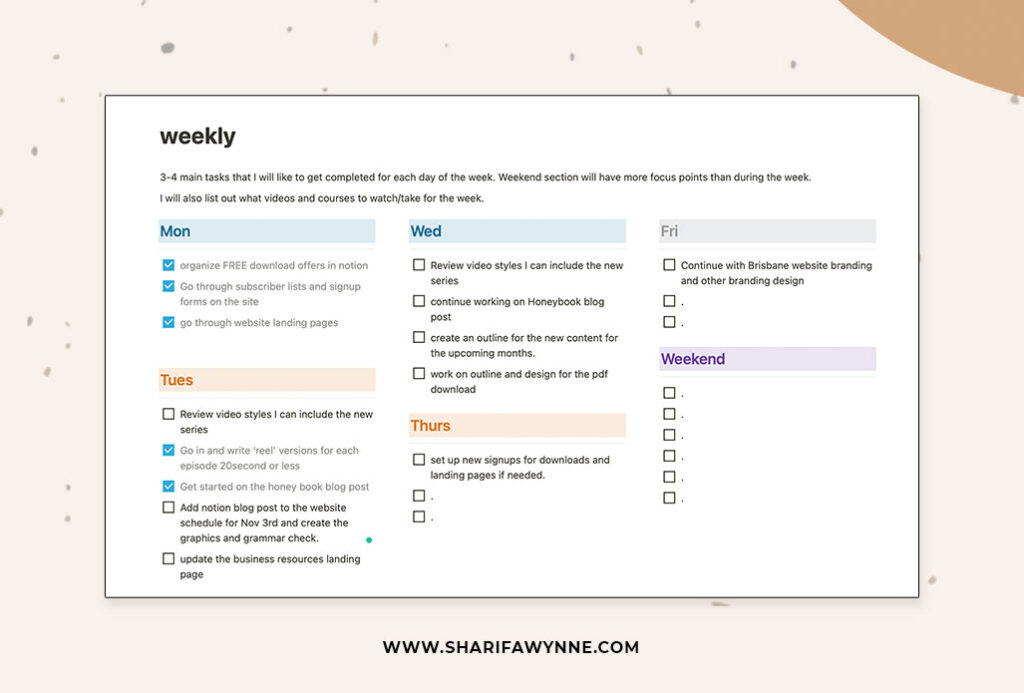 Content Planning
My Instagram page is home to content that will essentially be posted on all the social platforms I'm active on at the moment. Within this page, I drop all of my ideas into one section and drop the completed post into other sections. Within Notion, I upload the graphic and include when it will be posted along with the captions for Instagram and Twitter along with the hashtags.
I also have a section called pending blog post where I write out future blog post content. Here, I have usually about 6 posts that I work on throughout the week. Once I finalize a blog post I will create the images and upload the content to my website and schedule it to go live.
Blog & Design Template Reference
Different from what was previously mentioned, the blog posts section in Notion is where I store all the previous blog posts that are currently live on the site or will be up soon. I also do the same thing for my design templates. This is great when I'm sharing content on Pinterest or Twitter and want to quickly reference older posts or design templates. Each includes a graphic, the name of the post or template, the type as well as the caption.
Video & Newsletter Planning
I like to batch my content and notion makes it much easier for me to do so. Within my video and newsletter pages, I have sub-pages that link to each episode or each newsletter. I write out all the content needed for each video and newsletter. For the video series, it goes into further detail where I list out links to reference sources, the caption for promotions, the script for the video, and an outline of how I'll like the video to flow.
There you have it a quick overview of how I use Notion for my online design business. I recently did an IGTV video where I take you behind the scenes of notion. You can check that video out using the link below.