Selecting the Perfect Theme for your Website
selecting the perfect theme for your website
---
Are you just starting out with your blog or brand and don't have the extra money to have a developer create an all-new custom site for you? Don't worry you're not the only one, plus there are many WordPress themes and templates you can use to create your own unique style. BUT because there are so many, it can be overwhelming trying to decide on the right one for your brand. I'll show you a step by step decision process and what you should think about when deciding on the perfect WordPress theme.
Although this post is directed towards WordPress theme selection some of the same concepts can be implemented when decided on a template for your Squarespace, Wix or ShowIt website. Included with this post is a FREE Worksheet – Selecting a WordPress Theme to help you through the decision process, you can download it by filling in your information below to receive your download right away.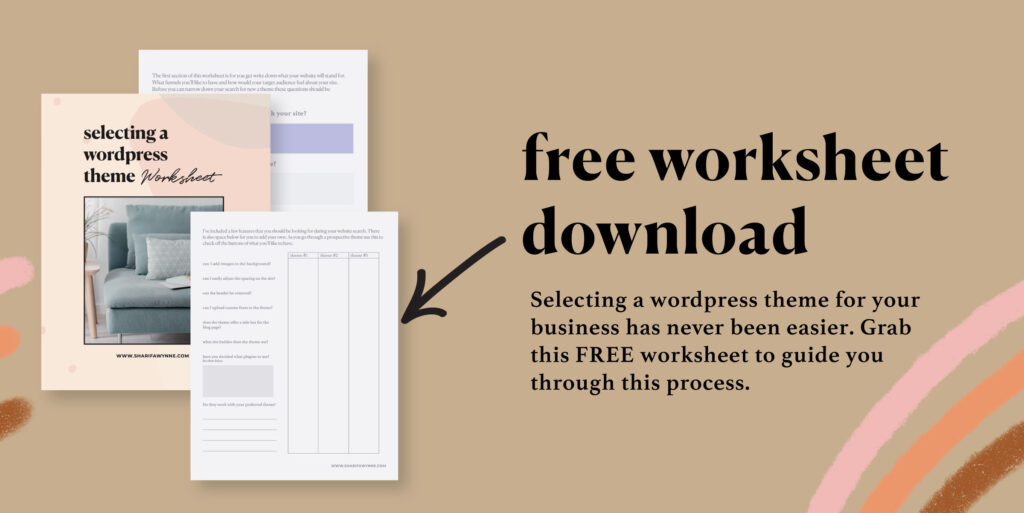 Before you even begin to search for a new template you need to evaluate what you want your site to look like and what you will like to accomplish with this new site. If you already have a site and looking to upgrade you should ask yourself, what would you like to change about your existing site & why?
top questions to ask
What would you like to accomplish with your new site?
What is the main focus content of your site?
What funnels will you be using?
How do you think your target audience will react to your site?
Site Content
It's very important to establish what your focus content for your site is going to be before you head out and search for your new theme. Why? Well, there are various themes that cater to specific content. Your theme selection should complement the content that's on your website. For example, if your content is focused solely on blogging you might not be interested in getting a portfolio centric theme and vice versa.
If you're going to be offering more than one content on your site, you still need to decide on which will be your main focus. If you fit into this category you might want to consider a multipurpose theme, which has everything in one without you having to use an additional plugin to get what you're looking for. If you're a food blogger, you should look for themes designed specifically for food bloggers. Why? because they would include features that are used for bloggers in your field just as a recipe steps or ingredients list.
Website Funnel
Will you be collecting email addresses on your site? Will you have an online shop or other products for sale on your website? These will be considered funnels and you'll need to make sure the theme you ultimately decide on can work well with the programs you're already using. MailerLite* and ConvertKit* are two of the main email marketing systems, if you use these you'll need to make sure that your theme will support a plugin that will let you collect subscribers. If your eCommerce platform is WooCommerce you will need to make sure that the theme you choose is compatible with WooCommerce.
Target Audience
When choosing a theme it should meet all of your needs but you should also keep in mind how the design elements and layout will translate to your audience once complete. Will your visitors find things on your site easier to browse or harder? Keep your visitors in mind because they are the ones that will be coming to your site, whether it's to read your latest post or purchase a product from you.
Website Layout
How will you like your menu to appear and social icons etc. It's also a good idea to write in color options that you'll like to include. Create an outline draft for your main focus pages, if your site is mainly a blog then you'll focus on the blog page layout which more than likely will be your homepage layout as well.
Customization
Once you've got a draft to think about what areas you know you MUST have the ability to customize. Most themes today give you the ability to add your own colors and some do let you add fonts, but you should think more in the areas of the ones listed below. You should first consider your skill level in CSS and HTML, some changes you'll be able to make easily if you have experience in CSS and HTML.
what to consider
Can I change the background color of the menu and footer bar?
Can I change the spacing between the footer and the page content?
Can I add social icons to the bottom of a blog post?
Can I change the colors of the social icons?
Can I change the font size in the slider?
Can I remove the header and or footer on some of the pages?
Can I add custom CSS to the site?
Only give yourself a small list of things because you'll get into more customization questions once you're narrowing down on your theme selections. Knowing your skill level is also very important in selecting a theme because you can do minor coding and edits to your template if it's missing a little something. If it's missing and you're not at that skill level you'll need to hire someone to do so for you or find another theme that includes the feature you want.
Knowing your skill level in CSS + HTML is important when selecting a new theme for your website.
Click To Tweet
Depending on the focus of your brand/business you should consider a few things when choosing a WordPress theme.
How easy is it to set up?
How is the theme maintained?
Is it mobile responsive?
How active are they at responding to questions?
Does it have all or most of the features you're looking for?
Will it work with certain plugins?
When viewing WordPress themes online make sure you check everything in the demo page and if you have any further questions send an email to the developer for clarification. If you want your blog posts layout to appear a certain way check for that as well. For example, you might want to know if you can center the text, add socials to the bottom of your post etc. These should all be listed in your features list, but sometimes you don't think about what you want until you see what you don't want. Does the blog layout allow for related posts at the bottom of each post, does the layout meet your expectations?
Set up Process
This is difficult to figure out when you're just looking at website demos but some theme authors include a link to online documentation. If they do you can take a look through the information and see if you will be capable of completing the setup process. Of course, all these authors are going to promote an easy setup process. It's how they get you to buy it but chances are it's not going to be an easy setup for all that purchase the theme.
Another way to tell if the setup process is simple is to check the comments section of a theme you're looking at if there is one. You can see what other people who purchased the theme had to say and what questions they may have had about the setup process will be helpful to you. If there are a lot of the same questions then chances are it might not be as easy as the theme author promoted it to be.
How is the theme maintained
WordPress is constantly updating and almost every week there is an update most of the times they are minor updates and at times they are major updates that require immediate updates from the theme developer or certain parts of your theme won't work. Before any update you should back up your site, also don't update to a major WordPress update until your theme is compatible with that version of WordPress.
Don't update to the latest version of WordPress until your theme and your most used plugins are compatible with the latest version of WordPress.
Click To Tweet
When looking for themes especially on ThemeForest look for themes that have been around for a while and are constantly being updated – you can see this in the changelog of the theme to see how often it's being updated. If your theme also includes third-party plugins you won't be able to update when an update is available for that plugin right away. It's up to the theme developer to update to the latest version. Generally, some developers will wait to update the plugins if it's only a minor change until they are ready to release more theme updates as well.
Response & Ratings
This can be seen in the comment section of the theme page or a support forum if there is one that is public. You need to make sure that someone will be there to answer any questions you may have during the setup process, a page not displaying correctly or a problem with an update at various stages. This can be a day after you purchase the theme or 4 months later. Does the theme offer one on one support – some will give you free support for 6 months etc and then you'll have to pay for more.
Also, check the ratings and how many people rated the theme. Sometimes people will give a theme one star just because it just didn't work for them, and that can be they didn't do their research before. When you're scrolling through the comments you can get a sense of what others think of the theme. When purchasing a theme from a smaller seller you won't generally find a comment or rating section but you can do a google search of the store's name or the name of the theme to see if anyone posted a review somewhere else on the web.
Is it mobile responsive
You would think that all sites will be mobile responsive by this time but unfortunately, that still isn't the case. There are some themes that just aren't responsive, you can find these in simple blog theme designs and also in free theme downloads. Honestly, you shouldn't even be looking at any theme that isn't fully mobile responsive even if it's a much cheaper option. Today most people browse the web on their phones or tablets and you want to make sure that your site is presentable when viewed on these devices.
Related: What a Quality Website Should Include…
Features you're looking for
Does the theme have the features you're looking for? Were you looking for a theme that was compatible with your eCommerce platform? Does the layout fit the design aesthetic that you were going for? Just a few questions you should ask yourself when looking at features. Did you want to create an online resume style with progress bars? Check to see if the theme you like has this option. If you're looking at premium multipurpose themes for your site, check to see what premium plugins are included with your purchase.
Will it work with top plugins
Chances are your theme won't come with SEO and even if it does Yoast SEO is a common plugin but sometimes you'll come across a theme that doesn't work with this plugin. If you would like to create simple grids and animation you can get Visual Composer or Elementor, most popular themes will come with this plugin pre-installed but for lifestyle blog themes chances are they don't. Visual Composer and Elementor are two plugins I highly recommend for most online business owners, it lets you create simple pages in minutes and you get amazing layout features too.
---
Hopefully, this post will help you make a theme selection much easier. I wanted to do this post to share with you how to really do a search for a WordPress theme. Most people make it out to be an easy process but it honestly isn't easy especially when you can't easily make up your mind on a decision. If you're one who constantly changes themes I'll suggest looking for a theme bundle package where you'll have many to choose from and can always switch out. If you have a multipurpose theme then you can always change the colors and layout around to give your site a fresh new look.