How to create a mood board in Canva
How to create a mood board in Canva
---
Creating a mood board in Canva with purpose is easier than you may think. In this post, I'm going to be giving you a quick tutorial on how you can create a mood board in Canva.
Keywords
The first thing you'll need to get is a list of keywords that represents what your mood board will be. If you're working with a client you will get these words from the information your client submits via their Questionnaire.
I'm going to be using an example that I did for Brisbane. The four keywords that best represented this brand were gentle, natural, spirited and beautiful. Once you've got the keywords down you'll know what images will be best fitted for the mood board.
Images
Search for your images using sites like Unsplash and Pixabay. Don't use images from Pinterest unless you know the original source of the image and give them credit. If you're using this mood board strictly for your client project showcase then Pinterest will be ok.
Creating the Mood Board in Canva
Now here is how you'll create the mood board in Canva. Open up Canva and create a file sized 1800W x 1100H. Again, this can be any size you choose to use but this is the size I will be using. Add your images into each square and then re-organize to suit your desired look.
Once your mood board design is complete is time to select the colors. You can use the color picker tool within Photoshop or via Canva and select the colors that best fit. You can also use the color as a starting point and change around the shade to match the design.
Once complete add your sign-off so that people will know you're the one that designed this mood board.
Related Read: My Process: How I setup my FREE download offers
FREE Canva Template
Want this template? Click the image below to download this FREE Canva template.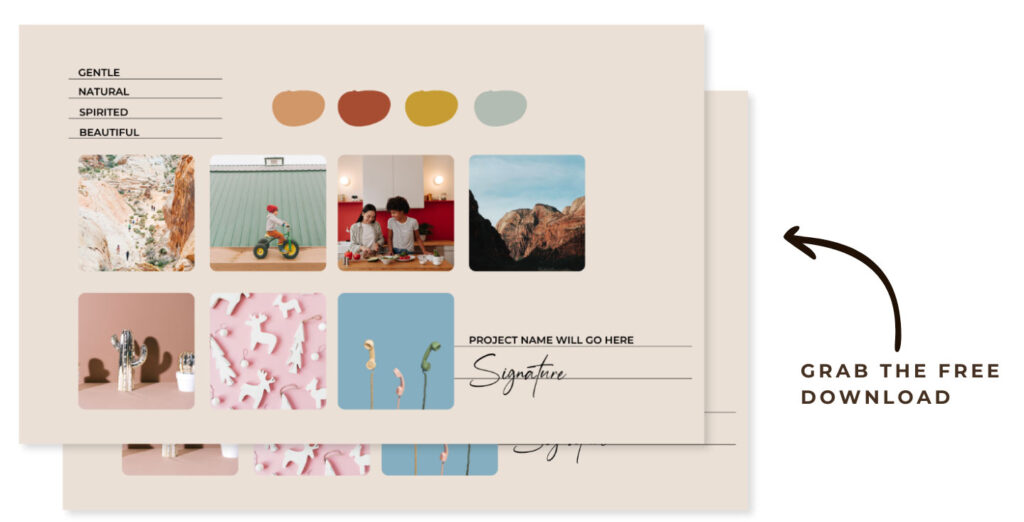 ---