How I plan my week as a Creative Designer

How I plan my week as a Creative Designer
---
In this post, I'll be sharing with you how I plan my week as a creative designer with a full-time job in Marketing. My methods change month by month, I don't stick to one way of planning because over time it just doesn't for me. For example, I went back and forth with planners over the years to the point where this year I bought one that didn't have any dates.
What works for me won't always work for someone else. This post is not to tell you how to plan your week but to show you how I plan mines. You're free to incorporate some of these methods into your weekly planning if you like.
Click To Tweet
Overview of the past week
Before I begin planning for the new week I go over what I accomplished in the previous week and what I didn't. From here I'll know that I have few things to add to my to-do list for the new week. I usually work on this on a Sunday evening for about 45mins while watching one of my TV shows at the moment.
Schedule Social Media Posts
Every two weeks I will sit down and schedule out my social media content for the next two weeks. Once a month I will batch create all my social media content and write captions but I will only schedule them out every two weeks. I keep all this information within Notion so I can always refer back to the content when needed.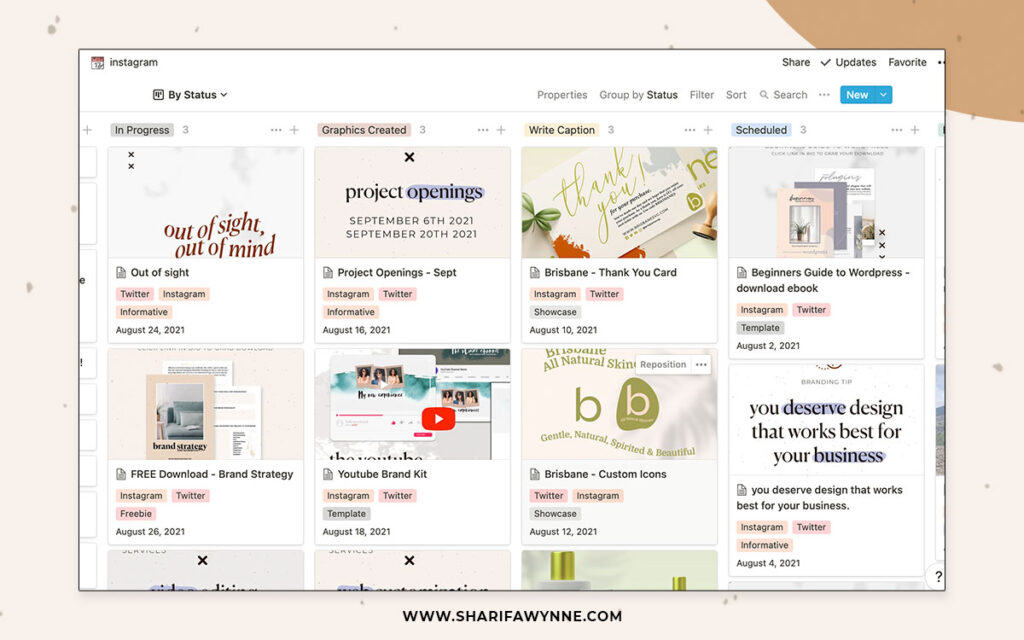 Weekly to-do list
After I've determined what needs to be completed for the week I will go ahead and create my schedule for the week. I keep my weekly to-do list simple as it can be. I'm not one for all the extras that include accomplishments etc. It's just not for me.
I have a simple weekly list in notion in which I list 3 tasks I will like to complete during that evening. Because I have a full-time job, I can only commit my nights to work on my business. During my lunch break, I usually work on quick business-related tasks such as writing a blog post or writing down ideas.
Show up on social
Each day I set aside some time (usually at night) to show up on social media and share and like other posts. I especially take this time to show up on Pinterest and add inspiration to my existing boards. I spend about 10 – 15 minutes on Pinterest, about 10 minutes on Twitter and I way too much time on Instagram. For Instagram, I spend time on stories first and send DMs if needed then I move onto Instagram posts and the explore page.
This is a quick overview of how I plan my weeks out. My methods will be different than yours but this is what works best for me at this moment within my business.